Welcome to Liberty's Kids Wiki
This Wiki is dedicated to Liberty's Kids, an animated TV Series that aired on PBS. The series teaches people of all ages about the American Revolution in an interesting and exciting way. While the main characters are mostly fictional, each episode is based on the facts and events that brought up the American nation, while teaching valuable lessons and bringing entertainment to the minds of all who watch.
The American Revolution Through The Eyes of Children
Edit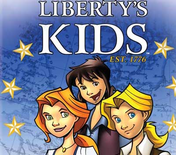 While the War for Independence rages between Britain and
the Colonies, three youths of different backgrounds record the events from their unique perspectives.
James Hiller
is an impulsive, fourteen-year-old Patriot, who works as a journalist for
Benjamin Franklin's
newspaper,
The Pennsylvania Gazette
. Fifteen-year-old
Sarah Phillips
is a Loyalist, who is unafraid to speak her mind and tell the truth.
Henri Richard Maurice Dutoit LeFebrve
is an eight-year old orphan boy of French origin,
who works alongside James and Sarah. Overseeing them is
Moses
, an African man and former slave, who bought his freedom through blacksmithing and now works for
Benjamin Franklin
. All four travel throughout the budding new country to report the goings-on of the Revolution: from the writing of the Declaration of Independence
,
to the midnight ride of Paul Revere as well as the infamous winter at Valley Forge, to the signing of the Constitution.
Home Video Releases
Edit
Latest activity
Edit
Community content is available under
CC-BY-SA
unless otherwise noted.